Aitour Cargo Bike - Family C
SKU: AC2204
---
Conquer your next adventure with Aitour Cargo Bike - Family C! This high-performance three-wheeler will get you and your crew there in style and safety. 
This cargo bike has an environmentally friendly and UV-resistant marine-grade cargo box, along with a robust and durable frame design that has passed TUV high-intensity testing.
The golden power combination consists of an efficient and energy-saving motor with an adaptive torque sensor, providing a maximum torque of up to 120NM.
The braking system features Germanclamper dampers and TaiwanHydraulicoli Disc brakes, ensuring quick and stable braking performance. Additionally, it includes a hill-hold parking system.
The room for four kids will make even the longest journeys exhilarating and risk-free. Ride with confidence and take your family along for the ride!
Note: All of our electric bikes are shipped fully assembled and the cost of full assembly for cargo bikes is €100. We do not offer unassembled shipping options.
Assembly costs are already included in the pricing.
Ships within 15 business days.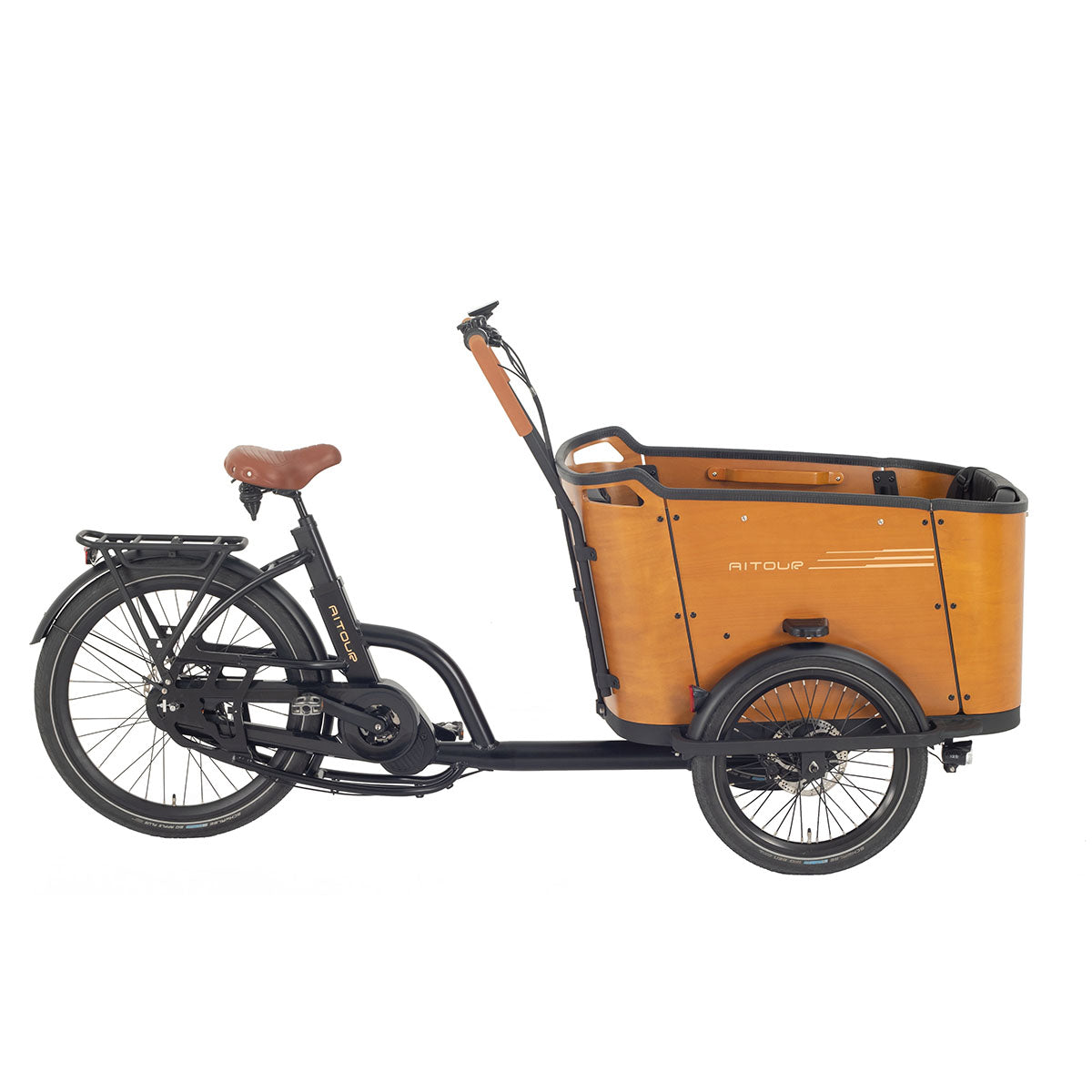 AC2204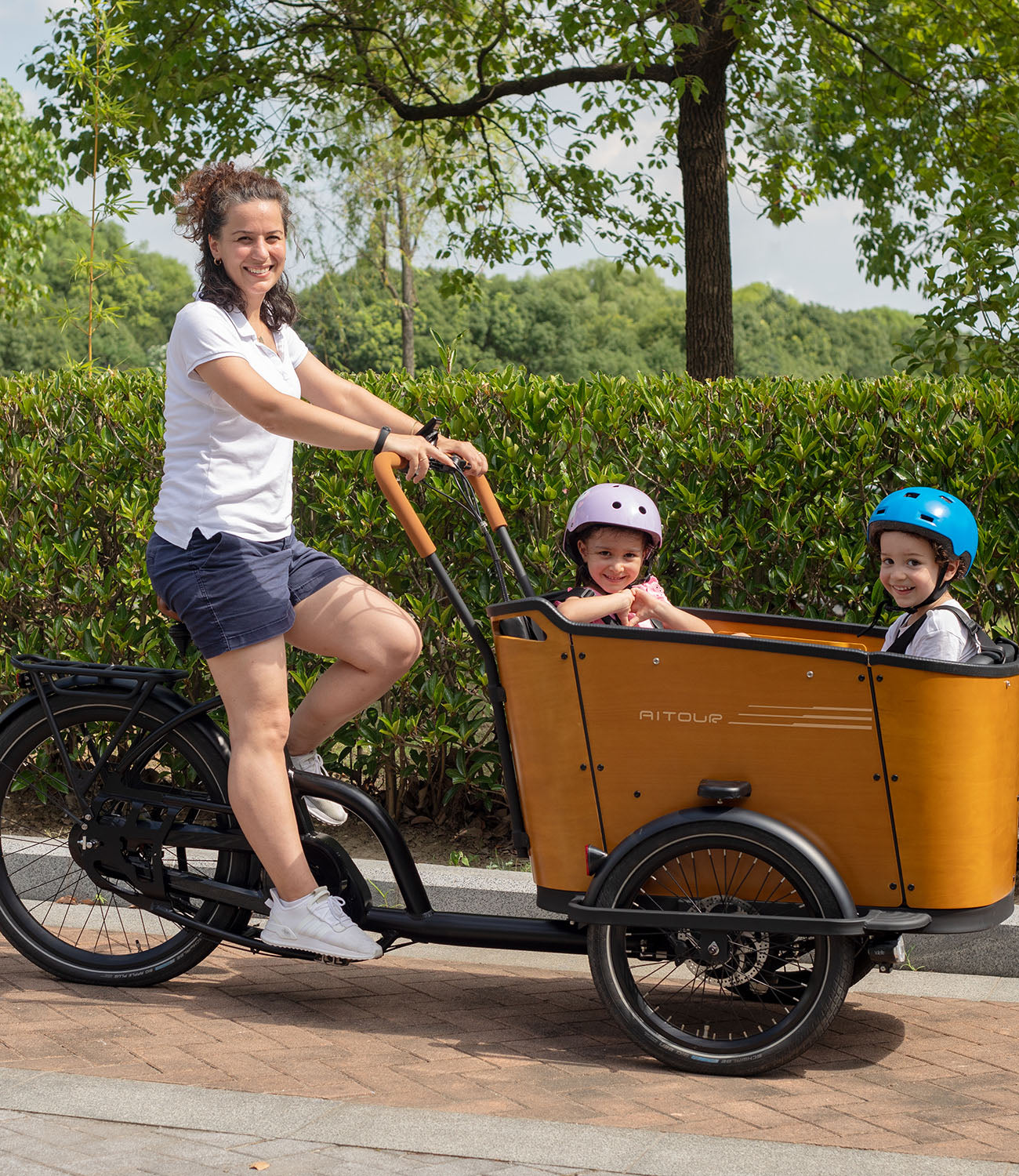 TRAVEL WITH YOUR FAMILY NOW
ADN ENJOY A DIFFERENT KIND OF FUN
What's the range?
Up to 40+ miles/65+ km per charge
How much can it carry?
300 lb/135 kg
How powerful is the motor?
250W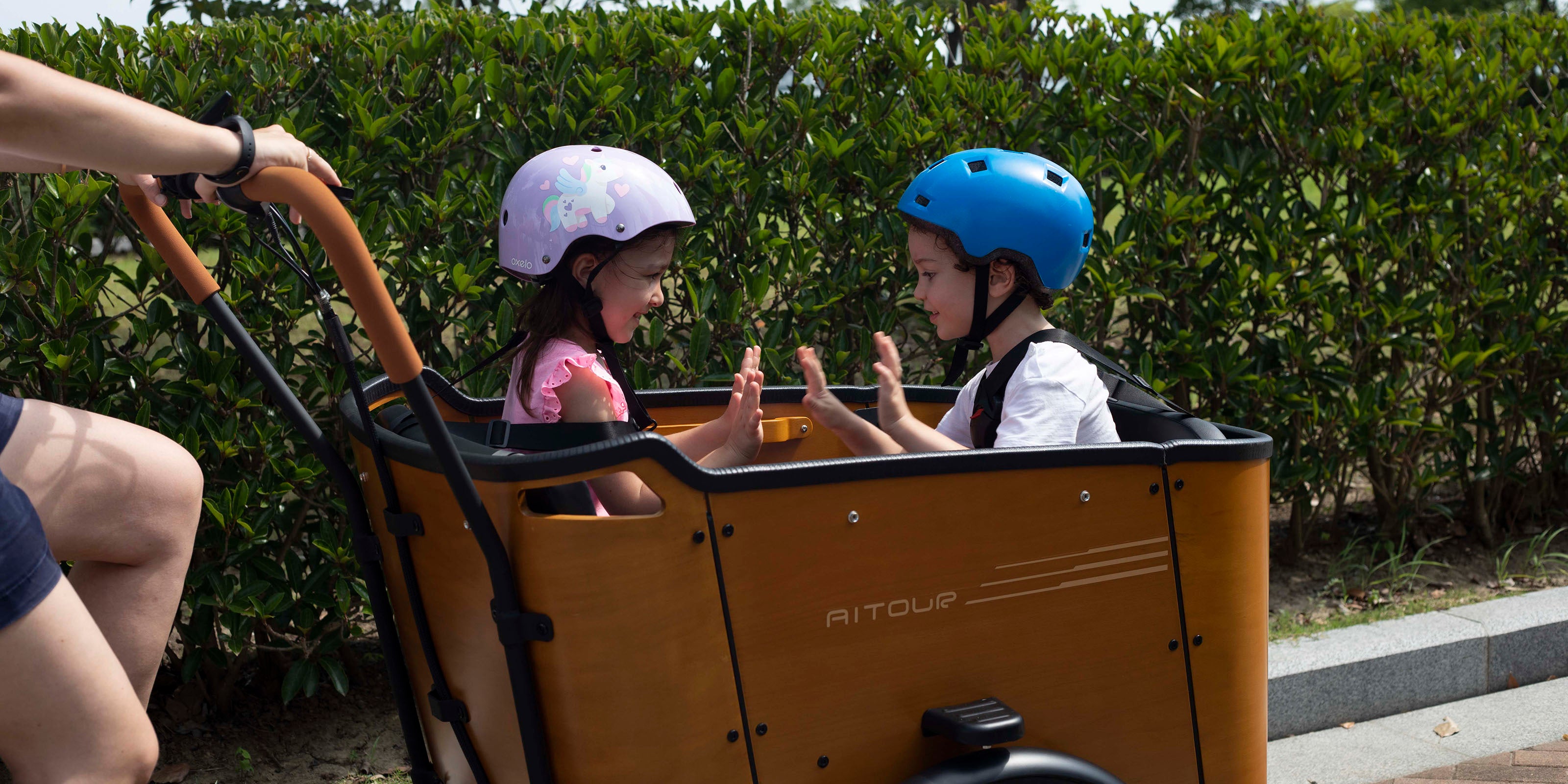 Aitour Cargo Bike - Family C
Go anywhere with your family safely
The Aitour Cargo Bike - Family C has "Bengal" hydraulic disc brakes with a safety parking function that allows you to stop your cargo bike quickly, gently, and safely when fully loaded with gentle pressure on the brake lever.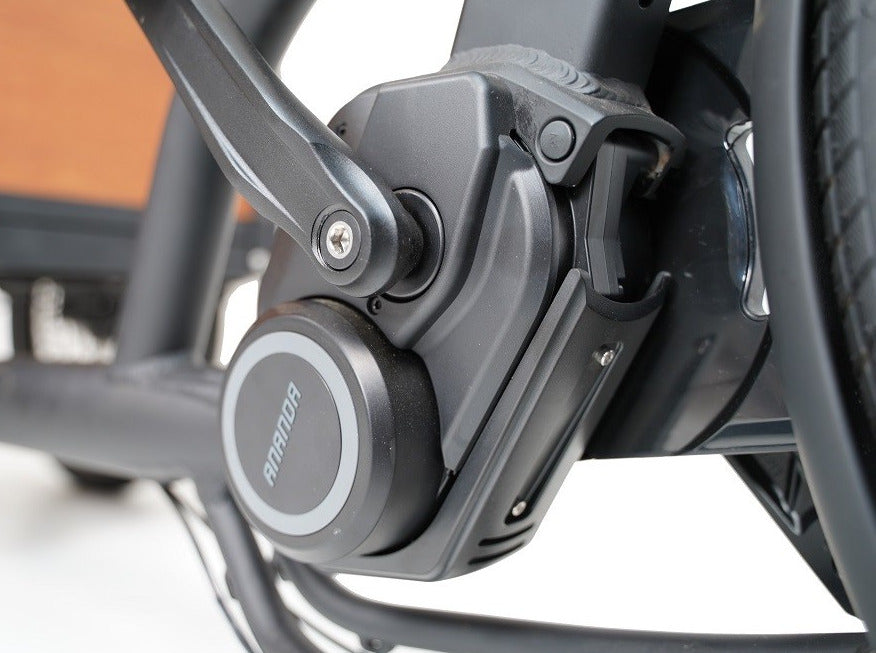 The innovative high-performance and energy-efficient mid-drive motor
The motor is fine-tuned by Aitour power, resulting in a maximum output torque of 120NM. It is paired with a supported torque sensor, allowing effortless riding even on steep uphill slopes, making it easy to conquer them.
The high-capacity battery allows you and your family to enjoy rides of up to 70km/43 miles on every charge.
Feel the wind on your face and have fun in nature.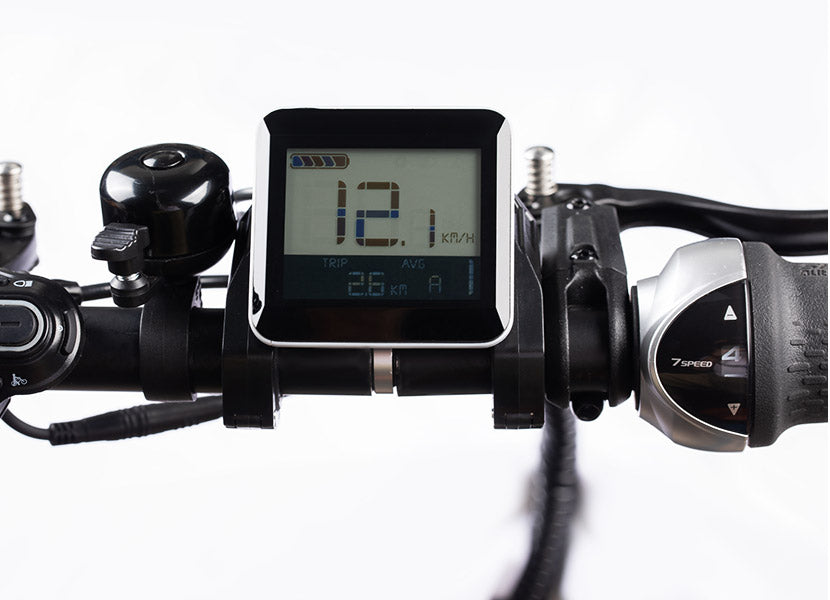 Shimano Nexus 7-speed
Shimano Nexus 7-speed shifting lets you adjust your riding pace as you wish.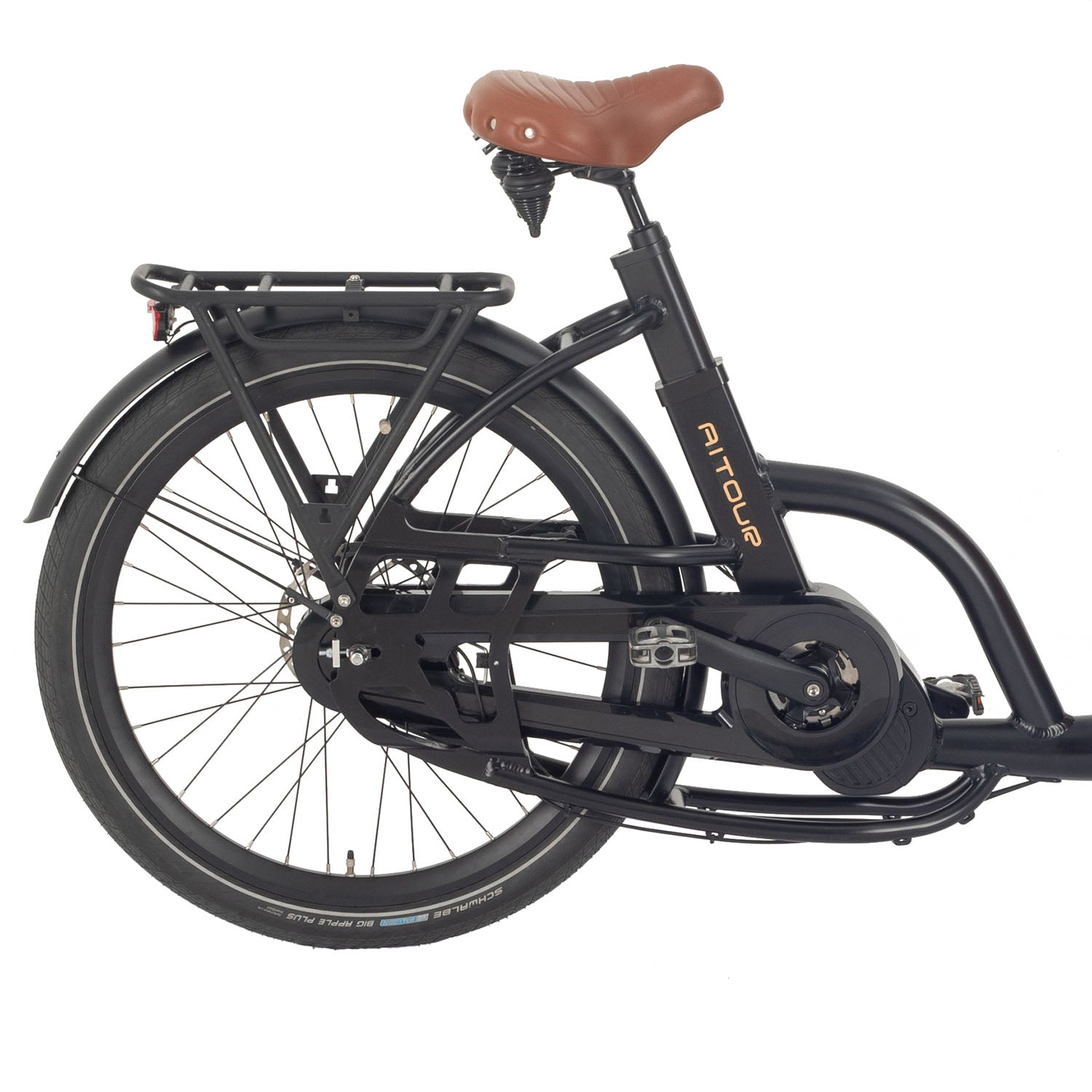 Industry-leading frame and brake configuration
German clamper dampers and Taiwan hydraulicoli disc brakes ensure safe operation and optimal braking distance, providing you and your children with a safe and smooth riding experience.
Our frame is designed to withstand heavy loads and have a long lifespan. It has undergone rigorous fatigue testing and TUV testing to ensure its durability. During the design phase, computer models were used to simulate various complex road conditions and stress situations, resulting in a robust and durable frame that meets our high standards.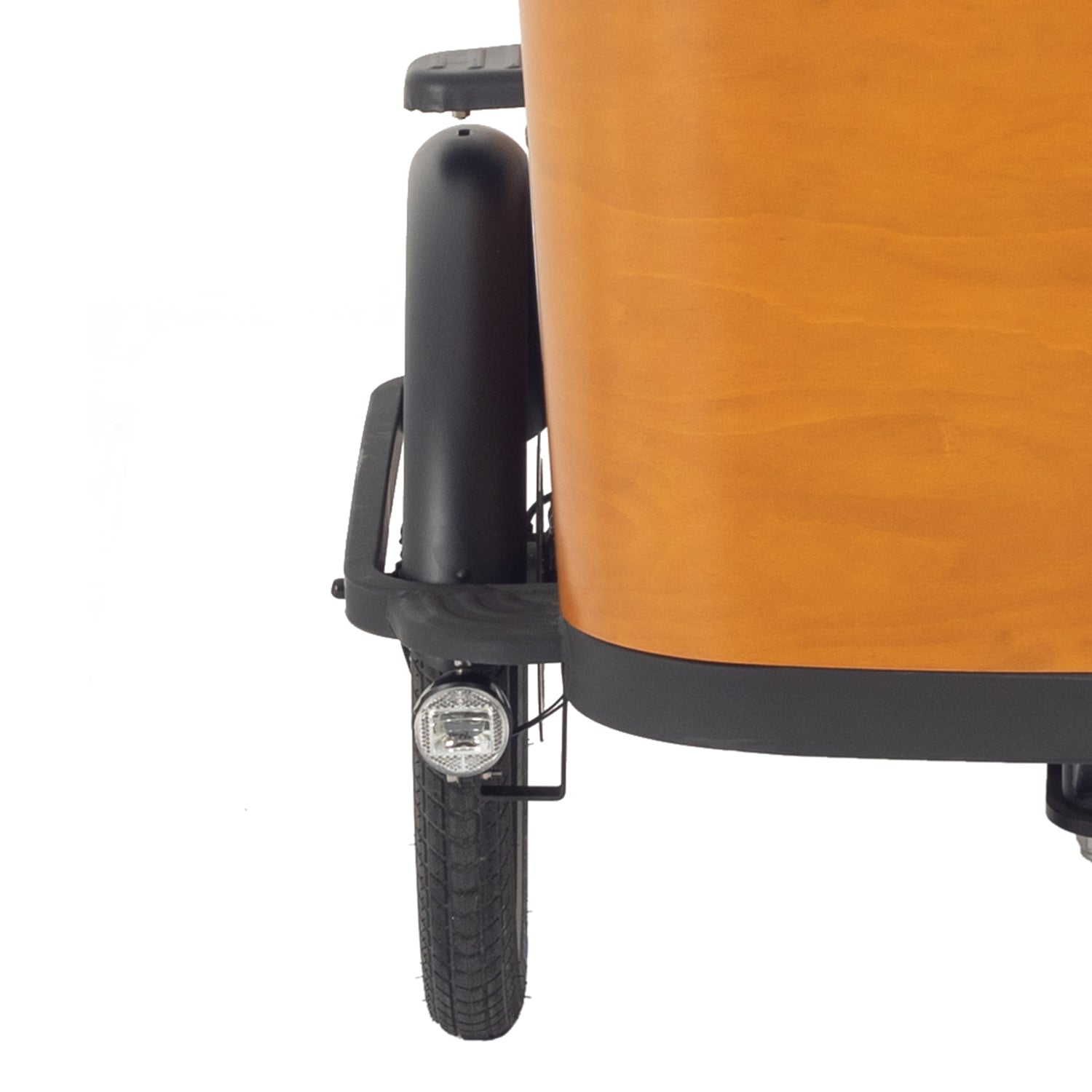 Dual-sided high-intensity Starry Nebula LED headlights
These headlights are equipped on both sides and feature automatic light sensing, allowing them to automatically turn on based on the ambient light conditions.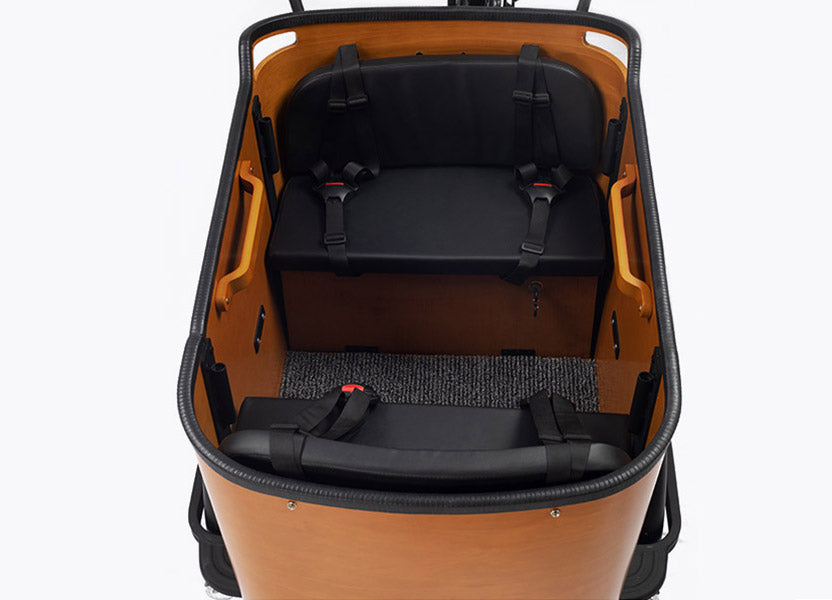 Curve Cargo Box
The curved cargo box is aesthetically pleasing and reduces the risk of injury, allowing your children or pets to play safely in the cargo box.
The environmentally friendly and durable marine-grade plywood is designed specifically for prolonged exposure to damp, humid, and coastal conditions. It is assembled using waterproof adhesive that meets environmental standards, preventing delamination. With proper maintenance, you can enjoy years of outdoor use.
Aitour has widened the seats compared to the previous generation, increasing the width by 17.5%. The seats are filled with environmentally friendly foam that meets the standards, providing a more comfortable ride for children.
The coating on the wooden box has UV protection functionality, reducing the degree of UV fatigue and allowing for extended use of the wooden box.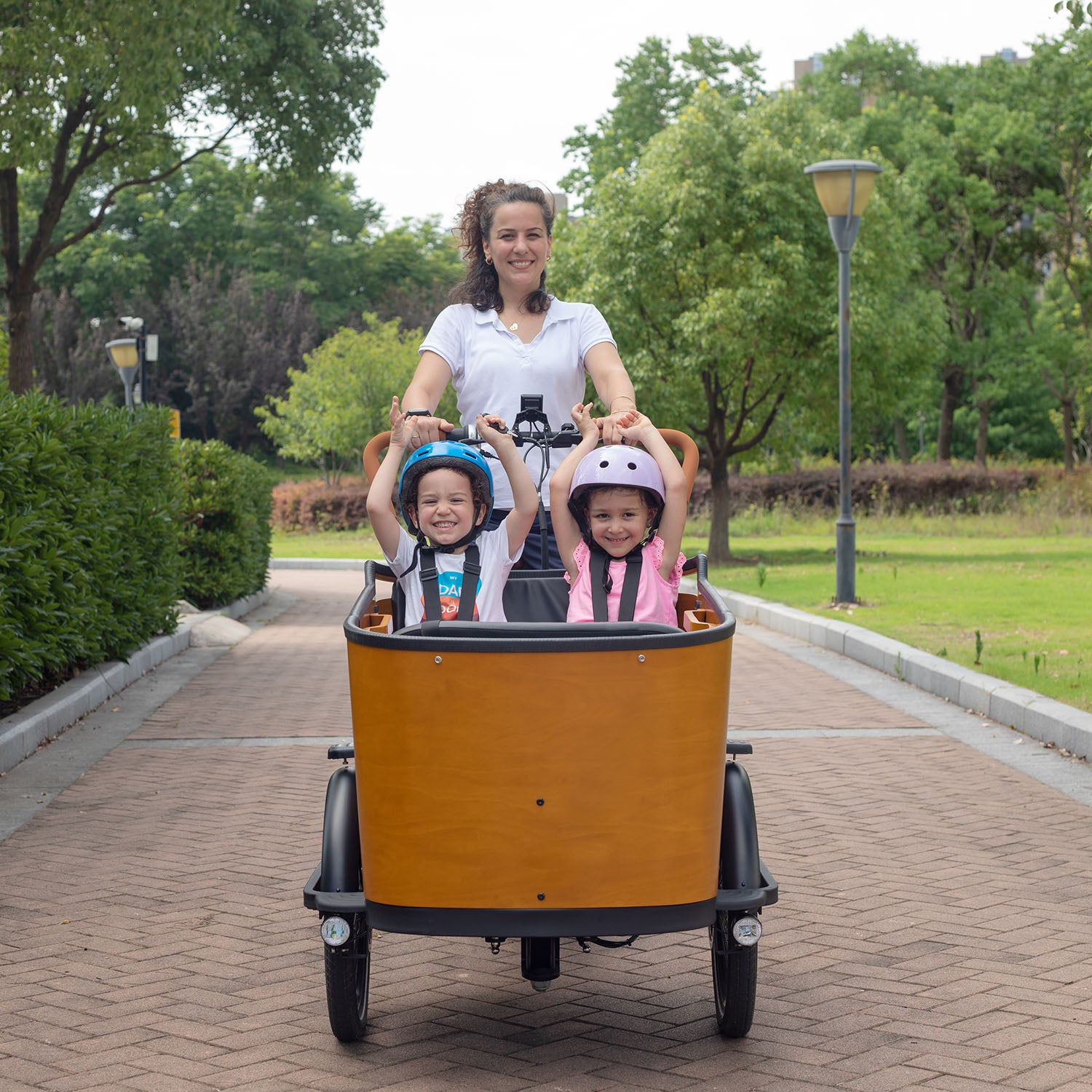 Get a large-capacity carriage
The battery hidden under the wooden seat saves space efficiently. Large capacity carriage for up to 4 children or 2 adults. The front-loading carriage design makes you observe the status of your children while riding and have a pleasant conversation with them.
In addition, the cargo area has a maximum loading capacity of up to 136kg/300 lbs. Moving things around is no longer a problem.


Equip your cargo bike as you wish
Aitour Cargo Bike - Family C is equipped with a child safety belt, soft leather cushion, safety armrest, and anti-slip mat. You can also choose to add the accessories you need.
Don't let the weather shorten your family time! We also have removable canopies and canopy poles. The fully enclosed awning has been "cold tested" and "heat tested" to ensure your family is protected from the hot sun, cool air, and torrential rain. You can safely deliver any shipment even in the rain.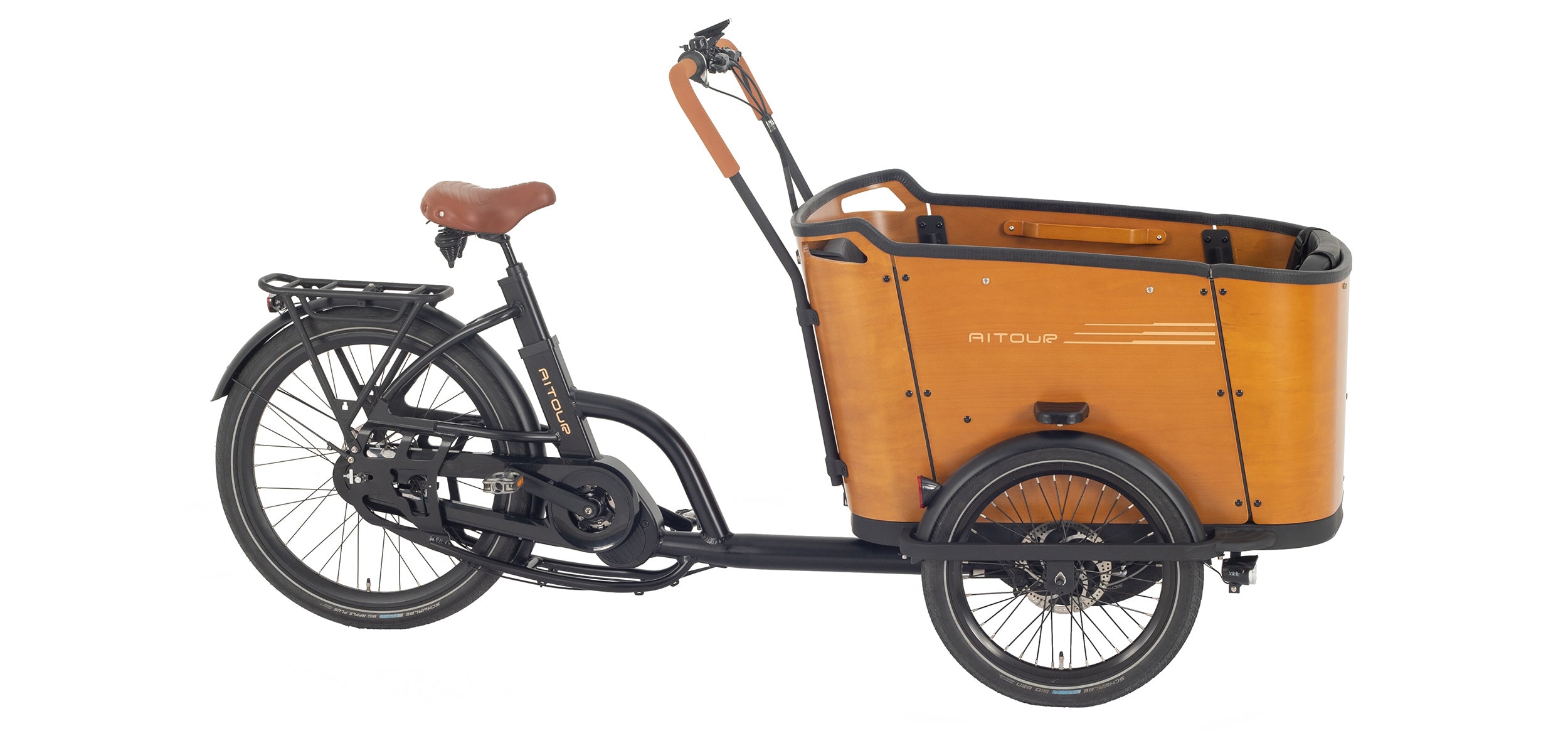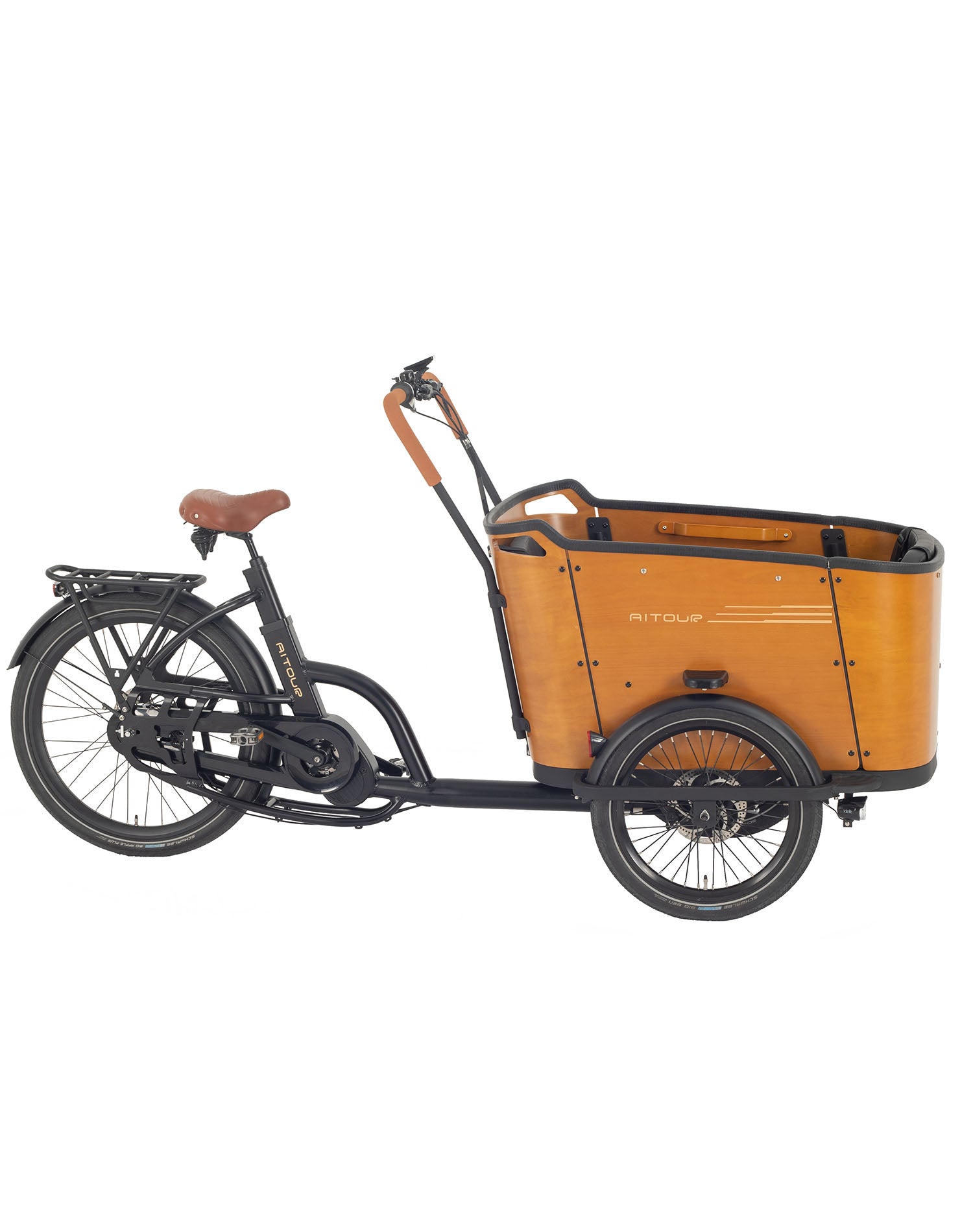 Comfortable Saddle
The saddle is designed with ergonomic principles in mind, featuring an enlarged contact area. Even during prolonged rides, you won't feel fatigued.
The Protective Rubber Lining
Aitour uses environmentally friendly materials for the protective rubber lining, which not only prevents slipping but also provides better protection against rainwater and moisture seeping into the wooden box, ensuring its longevity.
Anti-slip Textured Steps
Two anti-slip textured steps are located on both sides of the box to assist children in easily accessing the vehicle's interior.
The 'Umbrella Rib' Style Reinforced Vertical Tube Design
Aitour's innovative frame design, featuring a sturdy and stable structure, provides you with a safer riding experience. It also showcases Aitour's distinctive design language.
Enhanced Chain Design
Enhanced chain design, with increased load-bearing capacity, making it more suitable for a family of three for their outings.
Main Specification
By checking the main specifications of a cargo bike, you can make an informed decision and choose a bike that is reliable, durable, and suitable for your specific needs.
Motor
"Ananda" 250W 48V, mid-engine (max 120Nm) with torque sensor
Brake
"Bengal" Hydraulic disc brakes
Gears
Shimano Nexus 7-speed hub gears
Tire
"Innova" reflector line puncture-proof tires, 20" front and 26" rear
Ergonomic design
The inclined seat tube is more comfortable for riding
Recommended Rider Heights
Usable Length of Rear Rack
Total Loading Capacity of Bike
Max Loading Capacity of Cargo Area
Cargo Box Height
F: 458mm/18" R: 580mm/23''
Height of Benches from Floor
Height from Ground to Floor of Box
此产品的评分为 5.0 / 5.0 颗星。
已收到 20 条评价。